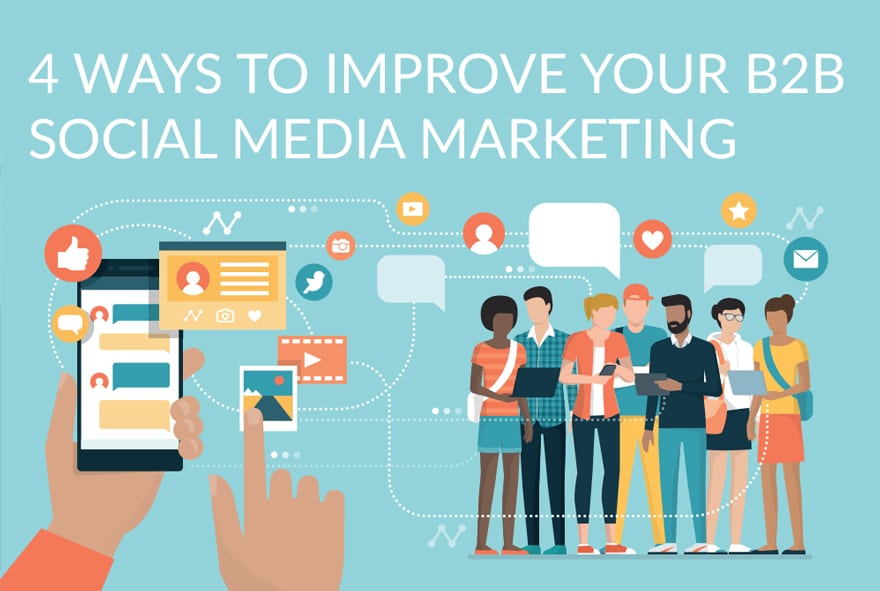 Are you a social media skeptic? While you may think of social media marketing as more of a B2C thing, more business professionals are recognizing this effort as an important part of their B2B marketing mixes.
Can those in the B2B space afford to forego social media marketing?
Short answer: It depends. But why would you? Social media has massive reach potential, allowing you to reach your target audience at little cost, build brand awareness at greater scale, and establish new relationships with greater ease. But additional and perhaps subtler advantages are also at play.
Due to the often complex, costly, and long-term nature of B2B sales, you must actively communicate with your prospects. By posting content and engaging on social media platforms, you're opening up more touchpoint opportunities with other industry professionals. Social media engagement can also help humanize your brand and keep you top of mind without being intrusive. However, best practices do exist, and it's important to always think before you post.
Implementing an effective B2B social media marketing strategy
Some people understandably associate social media with shiny-object syndrome. You might believe "the more social platforms you're on, the more people you can reach and hopefully gain business from." However, it's important to leverage industry-facing channels strategically. It's about getting four things right: content, voice, channels, and timing.
Distribute the right content ✍️. For better engagement, post content that's helpful, relatable, and even entertaining. Avoid using explicitly self-promoting content. Also, be sure to mix it up: Posts that serve different purposes can keep your activity interesting and relevant. Create or share events, upload pictures from company gatherings or conventions, and share links to your content such as blogs. Don't forget the power of visualization: Use eye-catching photos and upload videos to spark interest as well.
Use the right voice 📣. First, a note to those who work in "dry" industries: Regardless of what products or services you're selling, you can describe your offerings using vibrant, relatable language. Don't shy away from using first-person voice for a more personal feel. B2B marketing is a lot less hedonic and quirky than B2C, but relationships are every bit as important. There's also nothing wrong with a light-hearted touch, so use humor and down-to-earth language when appropriate. Make sure you're responsive to questions, feedback, and other remarks instead of pursuing vanity metrics.
Engage others on the right channels 🎯. We've said it once, we've said it a million times: LinkedIn is the best platform for engaging B2B professionals. Compared to other social media platforms, LinkedIn and Twitter are much more industry-facing than consumer-facing. While traditionally a peer-to-peer and B2C channel, you can also use Facebook as an effective B2B marketing channel.

Posting on several social media platforms for the sake of getting more reach doesn't necessarily hurt, but it's often better to simply focus your efforts where they'll pay off. Instagram and Pinterest are popular platforms with big audiences, however, trying to sell water purification technology on Pinterest could be like trying to sell essential oils at Jiffy Lube.
Post at the right time ⏲️. You naturally want your posts to get in front of as many members of your target audience as possible. To make the most of your posts, keep in mind social media engagement predictably fluctuates over the course of the week in relation to specific days, times, and even platforms. Here's the basic rundown:

LinkedIn traffic is strongest Tuesday through Thursday in a typical week and peaks three times daily: early morning between 7 and 8 a.m., noon, and directly after close of business (COB) between 5 and 6 p.m. Activity tends to drop off on Fridays and over weekends with some variability by industry.
Twitter engagement peaks later in the week between Thursday and Saturday from about 10 a.m. to noon. People are also on Twitter during work breaks and after COB, making late-afternoon and early evenings popular post times as well. Friday is the best day to tweet.
80% of the U.S. population lives in Central and Eastern time zones, according to the CoSchedule blog. So if you're working for a national brand it's best to post at optimal hours in these time zones.
One final piece of advice: It's more important the person in charge of your social media accounts is a social media expert rather than an industry expert.
Looking to improve your B2B marketing strategy? Learn why content marketing in combination with social selling should be your most profitable marketing investment by participating in our webinar, The Missing Links to LinkedIn Success!
Register here
.